WRITER.
I've written concepts, decks, manifestos, a mini-autobiography, poetry, some op-eds, a children's book or two, tonnes of Instagram captions, plenty of headlines and radio ads, and started (but not finished) a screenplay. I do rather love words...
Here are a few faves from the ongoing journey of my pen:


// GABBERISH : The Guilt Issue
I was asked to contribute to the 'Creative Therapy' section of this magazine, and chose to write on the theme of working mother guilt,
penning a letter to my beloved children and illustrating
what the juggle-struggle-blend often feels like around my greatest ever creative products.
// ANTFUCKER 'zine
Written
to enlighten people as to why the smallest meeting room at 72andSunny was called 'Mierenneuker'
. This was printed as a *tiny* magazine on a big newspaper stick, for perusal in the little meeting space.
Made with the legends that are
Mark Jenkins
and Valentina Mandozzi.
// The AXE Fragrance Generator
A speculative and
playfully bonkers little experience
made to celebrate 'Rainforest & Graffiti', one of AXE's unexpected fragrance combos. So we thought why not make unlimited suggestions? Can you smell them all?
Made with the coding brains of Mark Jenkins (again) and fellow writer and all-round crazy talent
Andy Johns
.
// PROJECT POO
We decided to make the toilets gender neutral at 72andSunny. So I wrote some pooetry to commemorate the moment, and toilettiquette to help people cope with the change.
// HUMAN LIBRARY
My advertising
life story so far
. Writing it was pretty cathartic.
Cover designs by
Wendy Richardson
.
// GOOGLE x BBC: Child Internet Safety
Sadly this project died deep into the discussions stage with these 2 iconic brands, and I'll never fully get why. Meme culture was planned to be put to new, subversive smart-thinking use as a way for kids to communicate better behaviour amongst themselves in their online lives. The message bearers could go where no ad campaign could ever hope to reach. Roll Safe, Danny Dyer, BBC newsreaders, nature documentary sloths; we twisted too many bits of TV and internet culture to share here, but it was a joy to write on.
// OUTDOOR SEASON: The Guardian
I penned these radio spots featuring the comic talent of Tim Key, giving boring tour guide commentary to somewhere that sounds very much like it could be your house.
Nominated Finalist for Campaign BIG Awards.
// ROYAL BALLET LIVE: The Guardian
Probably the longest headline I've ever managed to get away with in my copwriting lifetime.


// LIFE IS DRAMA: National Theatre
I highly enjoyed distilling the UK's National Theatre stage plays down to the very barest of synopses, in this campaign that shows how even the most ancient play is bang up to date on the zeitgeist and rollercoaster ups and downs of modern life.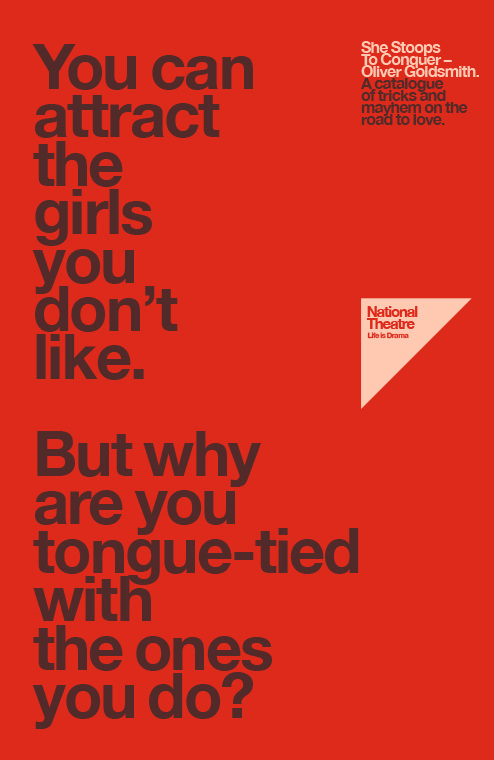 // EAT DIFFERENT, EAT: Young's
I put on an anti-meat-eating hat and wrote this campaign from the voices of other animals...to encourage fish consumption.
// HOW TO SPEND IT: The Jacques Allain Edition

If the fancy page-flipping pretend magazine linked here proves too difficult to consume, then please head to the pure words of some spoof articles scribed in loving pastiche of the FT's How To Spend It, for a dear friend's landmark birthday.
Apparently he very much enjoyed reading them in the bath and at other inappropriate moments for a father of two.